2011: My Delta Airlines Flight
2011: My Delta Airlines Flight
11 Feb 2011
3:30am: Check-in at Changi Airport.
Travelling to USA isn't the same on +Delta airlines. I'm not sure about the other airlines but +Delta is pretty strict when it comes to foreigners travelling into USA. Besides the mandatory biometric passports, there are  security setting up interview stations where they will first screen you before you proceed to check-in to obtain your boarding passes.
The usual security questions like: 'Did you pack your own luggage?', 'Did anyone help you pack your luggage?' etc. After 911, security for American airlines are pretty stringent to ensure all foreign passengers travelling into USA are free of threats, and to the safety of their crew and passengers.
4:30am: Entering the transit hall after immigration check points.
After waiting for the rest of our travelling mates, we all strolled pass the immigration check points.
Some of us wanted breakfast, some wants shopping, so we just went on our way.
5:15:am: Check-in at the departure gates, waiting for boarding.
5:45am: Airplane takes-off
After +Delta has acquired North West Airlines, they have generously upgraded me to silver medallion status. Silver medallion holders also enjoy priority boarding regardless of which class you bought, so it was really welcoming.
Although I still am confused about all these mileage stuff, I was still happy that I managed to get exit rows!!
One benefit about the exit row is that you have ample space to stretch in front of you. I was drawn to that idea, so I went ahead to choose that seat. Soon, I realised, I didn't really like that seat after all.
While I get to enjoy the space in front of me, it was pretty near to the lavatory; literally like just diagonally opposite, so when passengers are trying to wait for the lavatory, they are pretty much staring at my sleeping face all the time. There isn't much privacy at all.
The multimedia screen was pulled out from underneath the armrest and angled in a position lower than eye level, which was another minus to me. I prefer the screen to be eye level so it is more comfortable for viewing.
And one more thing, the seat was so close to the exit door, there isn't much of a window to view from; which is another minus for me. I prefer window seats!!!
A lesson learnt from the entire experience: despite the luring leg space, I prefer window seats and privacy; and I will trade it any time in a heartbeat.
1:30pm: We arrived at Narita International Airport in the afternoon to transit and it was raining.
The transit didn't take long, and soon we are on board the next flight to Detroit.
2:30pm: Flight takes-off!
It was my first time to experience a wet day at Narita.
For me it's usually snowing or just a plain sunny day. The rainy day just created a different experience for me. Not exactly sure how to put it into words, but the emotions were definitely movie worthy of lovers farewells and departures.
In this leg of the trip, I sat with the ladies, at the window seat. Nothing much out of the windows during the trip as it was mostly night.
And as we cross the international timeline…..
Hello! to 11 Feb 2011, AGAIN!
Yup, we gain one day when we fly transpacific to America and we lose one full day when we get back.
12:15pm: Arrived at Detroit International Airport!
As it was early February, the Northern states of America are still experimenting snow.
and…. I love snow!!!!! So it was a very welcoming scenery to me!
It was quite beautiful to see the layer of white on the tarmac and the airport has cleared out the pathways for the planes, leaving patches on the ground in between still covered in snow.
I still remembered my trip back in 2009 where I managed to experience an hour in the snow before we left for New York.
It was an awesome memory!
Any-hoo~ We stopped by the eateries in the terminal to grab a snack and drink before we bought the last flight to Miami. Based on previous experience, I know they only serve drinks and pretzels and nuts on domestic flights. Pretty much like the budget airlines we have in Singapore.
So, I definitely want something to eat on the 4-hour ride down south to Miami.
But before we could even get to the food stall, we had a small episode of lost sheep at the immigration check point. One of our buddies seemed to be missing and the entire group waited for a long time before we found out she went toilet. That wasted a lot of time.
About USA Customs Check
Because Detroit is our gateway into USA, we need to go through the series of their Customs checks at immigration with the officer asking you some questions about your intention to the US of A.
Then you get your picture taken and your fingerprints scanned before your passport gets stamped and you head to the next stage of the whole process.
You then head to the luggage carousel belt to pull out your check-in luggage, and head to the second round where you will be screen on your baggage items. Once you are done, deposit your check-in luggage back into the huge luggage handling machines.
Lastly, you and your hand-carry luggage will be screened before you arrived in the transit terminal.
Anyways, I bought TacoBell!!!! 3 soft tacos for USD5 plus!
But I forgot to snap a picture. Dang!
Never mind, but I did get a picture of my latte!
Carribou Coffee!! I miss this!! Their coffee is sooooooooo tasty!
And I love their slogan, "Life is short. Stay awake for it."
1:45pm: Flight to Miami takes-off!
Due to my medallion status, I was able to get a seat very near to the exit, since the domestic flight is a single aisle plane; and of course, a window seat.
Snowy White!
The snow outside my window are so pretty!
They are so neatly packed together, so much so it looks like the patches are covered in a white wedding dress. LOVE IT!!
Flying over land has a few additional perks!
Because it's over land, we get to enjoy wifi service! UP IN THE AIR!!!!!
How cool is that?!?!
Facebook mile-high club!
Not free, of course. But still, it's relatively cheap.
I only paid USD9.90 for per flight session and I could surf web for 4 hours on-board.
The best part is that once you are logged on and if  you check in on foursquare, you immediately earn this exclusive badge: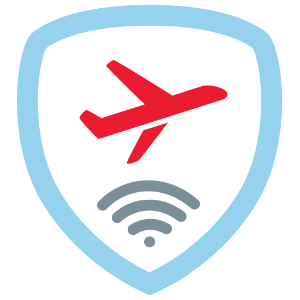 You can find more details on this exclusive foursquare badge 
here.
Now although it came as a surprise to me, then the weirdest thing happen, people started to private message me on foursquare requesting me to log-in for them to unlock this badge.
Sorry but,
NO WAY!
It's not that I'm selfish, but it just defeats the purpose of exclusive badges on foursquare.
Sorry, sister, you gotta use wifi on the plane to get it.
Of course, I did share the wifi with my travel buddy who is also on-board, so she also took the chance to check her Facebook and reply emails, and message her kids up in the air. It was so cool!
I also managed to chat with my friend 
+Andrew Sykes
 from London on my iPad as it is nightfall back in Singapore.
I know it's a little blur but this was what he wrote exactly:
"Hehe, you're the highest person on earth ever to speak to me when I'm still on the ground. Hehe, it's very cool"
O-M-Gee~ You gotta try this!
It was a lovely afternoon talking to my friend, taking pictures then upload them to Facebook immediately!
I mean, with a coke in one hand, internet on your fingertips and a view outside the window like this:
Snowy lands below
Life is LUXE man!
I'm so enjoying this view!
Fort Lauderdale welcomed us with this view as we slowly touchdown in Miami..
5:00pm: Touchdown in Miami.
Royal Carribean  Liberty of the Seas cruise here we come!!!
More stories soon!